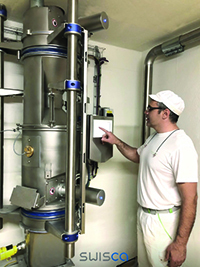 Swisca • Appenzell, Switzerland • +41 71-552-44-00 • www.swisca.com
Founded in 2018 and located in Appenzell, Switzerland, Swisca offers a line of scales and measuring instruments for the food industry. Swisca scales are Swiss made and calibrated for reliable processing, and its control technology is designed for complete traceability and controlled yield.
Full-Line Weighing Systems
According to Sales Manager Andreas Kleiner, "The full line of Swisca weighing systems includes six sizes of CERVO hopper scales available in legal for trade, five sizes of GRANO differential scales for free-flowing products, four sizes of MACRO differential scales that measure weight loss over time, three sizes of MICRO differential scales, and four capacity ranges of the all-electric FLOBA quantity controller.
"These scales," says Kleiner, "are compressed-air free to provide operational and installation cost savings. They are high-precision scales that are easy to operate with touch-screen displays, have highly reliable and energy-efficient servo drives, and Internet of Things-compatible control. They also feature hygienic design, stainless steel construction for longevity, and require minimum maintenance."
Features
Modular design across the product line reduces procurement complexity and reordering lead times.
Easy-to-operate scales with touch-screen displays.
Energy-efficient servo drives designed to be highly reliable.